The German shepherd and Presa Canario dog breeds have a lot in common, ranging from their personality development to training requirements. However, most dog lovers might not have heard about the dog breed of Presa Canario. And you know that hybrid dog breeding is a crossbreeding practice of two different purebred dogs with a special motive of developing a new dog breed. 
Recent studies have shown that crossbreeding the Presa Canario with the German shepherd brings much-needed genetic diversity to the breed line of the German shepherd, resulting in healthier and stronger puppies for future canine generations. 
As you already know, the Presa Canario German Shepherd Mix dog breed would be a hybrid dog with unparalleled guarding, herding, and protection attributes. The best thing about both parent dogs is that the German shepherd and the Presa Canario have distinguished protection, guarding, and herding attributes. Apart from this, they are smart, brave, powerful, and strong dog breeds capable of producing healthy and strong puppies. 
History Of Presa Canario German Shepherd Mix
Hybrid dogs are those breeds that are in development. That means you cannot exactly predict what attributes the hybrid puppy would inherit from both parent breeds. So, we will look at the history of both parents. 
This dog breed has a history dating back to the 16th century or even earlier, but eventually, till the 20th century, the entire breed died out, but now these have been re-developed. This purebred dog hails from canary islands and has a long history of fighting, protecting, herding, and guarding dogs. 
Most of you know that the German shepherd is the world's most famous protection and guarding dog breed. You should know that the German shepherd was trained by cavalry officers over a century before with the German Army. 
The best thing is that the captain has trained them to become ideal working dogs with prizing temperament traits like athleticism, intelligence, poise under duress, confidence, bravery, and loyalty. Nowadays, you will find two species of German Shepherd: the working dog line and the show dog line. 
Personality Of Presa Canario German Shepherd Mix
The personality of Presa Canario German Shepherd Mix will be a complementary combination of personality and temperament traits from both parent dogs. That means you can expect your canine to behave aloofly with strangers while benefiting as a guarding and protection dog. However, your dog is likely to spend as much time as possible with you to show their love and affection. 
Health Issues Of Presa Canario German Shepherd Mix

 
As you already know, hybrid dogs can acquire the traits of any parent, and it has shown tangible health benefits for the canine. One of them is improved genetic diversity, which can limit the chance of genetically transmitted health problems. 
So, it is better to learn about genetic health issues from both parent dog breeds, and you can even ask the veterinarian for pre-breeding health check-ups to ensure there are no signs of severe health issues. Presa Canario dogs are usually known for health issues like elbow dysplasia and hip dysplasia. 
However, these dogs can also have thyroid dysfunction, eye issues, panosteitis, anterior cruciate ligament tears, demodectic mange, osteochondritis dissecans, and epilepsy. You should know that Presa Canario has lived for almost 9 – 11 years. 
On the other hand, German shepherds can inherit some of the following genetic health problems. 
Genetic Health Problems Of German Shepherd 
Hip dysplasia 

Eye issues 

Elbow dysplasia 

Cardiac issues 

Autoimmune thyroiditis 

Degenerative myelopathy 
You should know that German shepherd dogs are likely to live 7-10 years. 
How To Care For Presa Canario German Shepherd Mix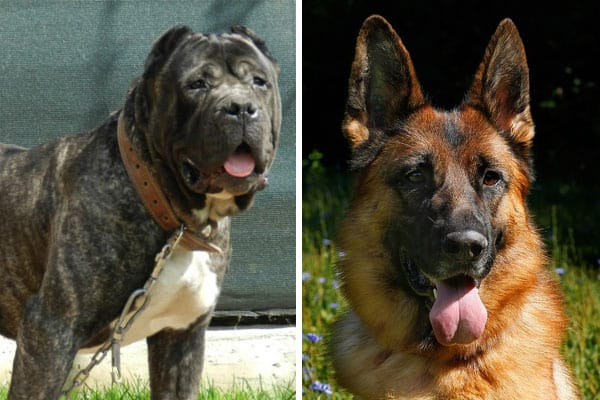 No one knows which parent does your puppy favor the most, but you have to commit to an energetic, active dog and a fantastic athlete. However, you also have to ensure not to over-train your canine until they are fully grown during their early stage of life.
 Looking at the traits of both parent dog breeds, it is expected that your dog will be keen and intelligent while learning new tricks and skills. You should present some challenges to level up their game. 
As you already know that every dog needs attention and doesn't want to be left alone. So, to build a special bond with your dog, you have to spend as much time as possible to know more about them and train them to be more active. You should invest your efforts to socialize her as it will help build a sense of trust in the long run. It would be better to use a positive approach to everything so they can understand you correctly. 
Even if you see your dog every day, sometimes it could become tough to tell whether your dog is a light shedder or a heavy shedder. However, you should be ready to spend money on a good vacuum to keep your floors clean. Also, it would be better to bathe them when needed instead of daily as it helps in keeping their skin from getting dry.
How To Train Presa Canario German Shepherd Mix
As you already know that they are intelligent dogs, which means it could be a little tough for you to train them. They want someone to train them to their high limits and let them know where they stand. So, it is better to keep training sessions shorter to keep their attention span higher. 
If you can handle the training properly, and you know that every dog responds to positive intentions. Ensure to praise your dog when it does something well. Besides, training it daily would make it easier to take up new challenges while training. 
Is A German Shepherd Presa Canario Mix Right For Your Family?
To know whether a German shepherd presa canario mix is suitable for your family or not is dependent on what you want from this hybrid dog breed. Suppose you are thinking about adopting this breed because of its hunting capability and strength training. You should know that the facts are not proven yet. 
Final Words
Now you know almost everything you need to know about this Presa Canario German shepherd mix and see whether it matches your lifestyle or not.