The German Shepherd is one of the favorite breeds in all parts of the world. This breed is very intelligent, brave, and confident to form a good team with its owner. There are so many positive qualities that this breed has that they can serve as service dogs and be very efficient.
Many people with disabilities or who attend therapy can share with a service dog, which can be very helpful. There are professionals in service dog training, and they will tell you if your dog applies to become an efficient service dog to help others.
What is a German Shepherd Service Dog?
The German Shepherd is a dog from Germany and is considered a relatively new breed. These dogs were developed to herd sheep and watch over them. For this reason, they are part of a herding group.
The German Shepherd is distinguished by being a very strong and intelligent dog. They also respond to obedience training positively. This breed is known worldwide, and many people prefer them to do various types of work.
Which traits make German Shepherds suitable as service dogs?
This breed of dog is known for being constantly active, so it is the most suitable for service. The German Shepherd needs to be constantly exercising, so sports activities are very important. The German Shepherd who provides protection service must be prepared in the areas of obedience and tracking.
German Shepherd as Psychiatric Service Dogs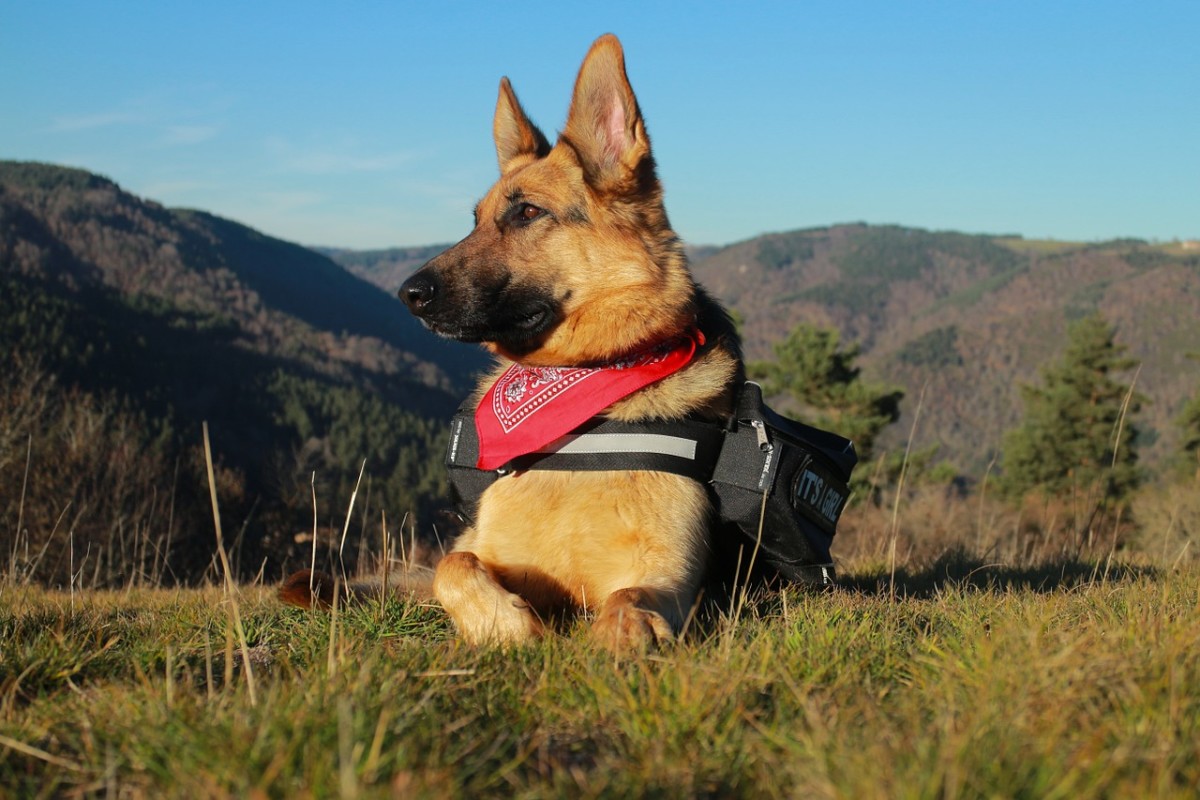 Many physicians and psychiatrists have been interested in how service dogs can help people with mental health problems. However, these investigations have been recent. The German Shepherd as a service dog can help in some specific disorders if discovered.
It is not that common to see a service dog, and people who wish to use them for this purpose must first pass several barriers. It is still difficult to get the service dog approved for mental health issues.
German Shepherd Service Dog for Anxiety
The German Shepherd is excellent as a guide dog. After all, they can help their owners because they have a disability or illness. Dogs trained to provide psychiatric service are also trained to help their owners in an anxiety attack or post-traumatic stress syndrome.
More than comfort, the German Shepherd serving as a service dog becomes an important part of people who have the anxiety to survive.
German Shepherd Service Dogs Autism
For the German Shepherd to do a good job as a service dog for autism, it must be properly trained. He must be trained to take care of his owner's physical integrity if he has autism. Must be trained to guide any emergency that the person may suffer.
German Shepherd as Physical Disabilities Service Dogs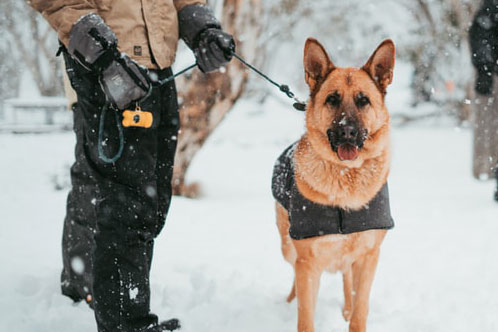 The German Shepherd is chosen as a service dog to be trained and to be able to give both physical and psychological support. For this breed to be of great help to people who have a physical disability problem, it must be trained to perform specific activities.
They must be prepared to turn switches, open and close doors, pick up objects from the floor, move drawers, and other activities that they can easily learn through training.
German Shepherd As Diabetes Support
As you already know, the dog is the best friend of the human being, especially when helping because of his intelligence. When the German Shepherd is trained to serve an owner with diabetes, he can use his nose to detect an epileptic seizure or high or low blood sugar.
For this reason, they are first trained in a laboratory, and then they go through realistic simulations. Thus, the service dog is trained to recognize different situations and know when its owner is in danger.
German Shepherd as Seeing Eye Dog
For a German Shepherd to serve as a guide dog, it must first be trained. Its intelligence and dynamism distinguish this breed. Also, they have a very good decision-making capacity to resolve conflicts quickly.
There may be architectural difficulties; for this reason, the dog must go through very advanced training to serve as a guide. Once they are trained, they will be prepared to pass obstacles. However, they cannot differentiate between the colors green and red.
So they should be taught other strategies that can mitigate this disadvantage.
German Shepherd as Physical Therapy Service Dogs
The German Shepherd has a positive effect on people because they have the power to reduce emotional stress, blood pressure, and much more. For this reason, the more time passes, the more they are used in different types of therapies.
Due to the positive effect that the German Shepherd or even other breeds can have on people, healthcare personnel has them for support. In this way, therapy, or in this case physiotherapy, can be more effective. The German Shepherd is used as a service dog for physical therapy.
They can also assist in occupational therapy, special education, and other therapy types.
How to Train German Shepherd Service Dogs?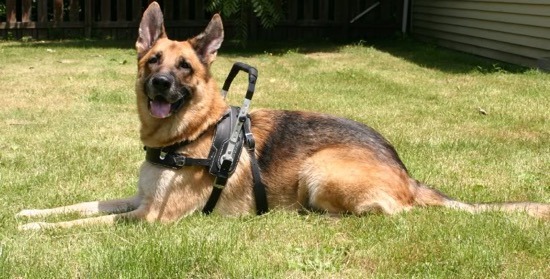 All breeds cannot serve as therapy dogs. Those who have a very strong protective instinct or are very territorial are not suitable for service dogs. You need a pleasant dog, an open character, and is not aggressive.
These qualities are found in the German Shepherd, and that is why it is one of the most widely used breeds as service dogs. A service dog must have the following characteristics:
Create a close bond with its owner

Be obedient

Be docile

Be calm

Be nice to strangers who approach you

Don't be impulsive to protect

Have good social behavior

Have a calm character
In itself, there is no specific training to train the German Shepherd as a service dog in a given time. However, adult dogs are already conditioned by certain experiences that may not serve as service or therapy dogs.
Different breeds have been trained in the United States to train therapy dogs. But before starting, the dog must meet some requirements before starting his training and training.
When a German Shepherd is chosen to be a service dog, first of all, he must undergo an examination to assess his nature. Two more tests will be included, one oral and one written, to evaluate who will be the caregiver.
Likewise, service dogs must comply with some hygiene measures. They must also be vaccinated, dewormed, and go through frequent veterinary checks to ensure that the service dog is kept in perfect condition.
The idea is that the service dog can make his owner happy while giving her the necessary help to cope with his disability or illness.